The Tenmei and Kansei eras (1781-1801) were the golden age of Edo sumo wrestling, marked by the careers of famed wrestlers like Tanikaze, Onogawa, and Raiden, as well as a time when Katsukawa Shunshō's sumo prints depicting the distinct facial features of wrestlers was published to great acclaim and the ukiyo-e genre of sumo prints was established. The depictions were not just of standing wrestlers but also matches and daily life, and Utagawa Kunisada developed impactful sumo prints with wrestlers drawn big.
In Bōsō, where amateur sumo wrestling was popular, Edo sumo tours were frequent and young men confident in their strength flocked to the world of sumo, creating many a wrestler. One showdown that brought spectators particular excitement was that between Koyanagi Tsunekichi and Arauma Kichigorō, one of the best matches since Tanikaze vs. Onogawa. The mighty boy wrestler Oniwaka Rikinosuke weighed 67.5 kg at age eight and quickly proved popular when he appeared in the ring. In the Meiji period, Sakaigawa Namiemon and Konishiki Yasokichi rose to the rank of yokozuna.
Using the lens of ukiyo-e, this exhibition reminisces about the valiant figures of wrestlers from Bōsō through the Edo and Meiji periods. Visitors can also enjoy a variety of pictures, toy ukiyo-e, and other sumo prints depicting the scenery of the sumo cabins on the grounds of the Ekōin Temple, the yokozuna ring-entering ceremony, and the dressing room.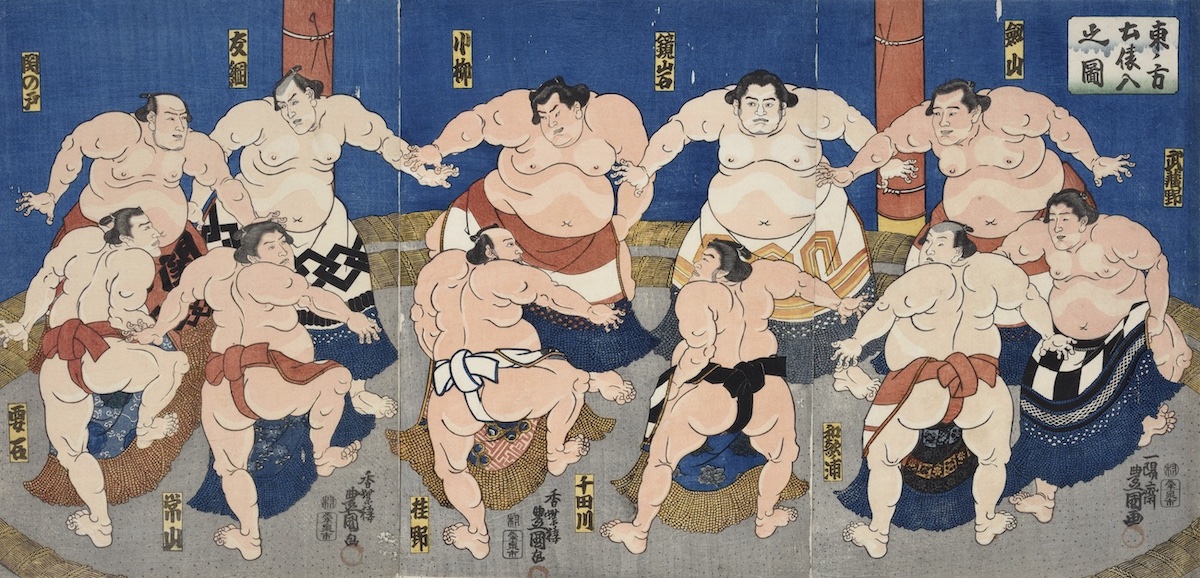 Utagawa Toyokuni III, Ring-entering Ceremony of the East,
Mizuta Museum of Art, Josai International University
Events
■

Lecture

11/27 sat. 13:30-15:00

Instructor: Taniguchi Koitsu (Sumo history researcher)

Admission: Free

Venue: Orientation Room (Library, 1F)

Reservation required (Tel.0475-53-25652)

Capacity: 60
■

Slide Talk

11/19 fri. 12/10 fri. 13:30-

Admission: Free
Venue: Orientation Room (Library, 1F)
No reservation required

Capacity: 60
Information
Open: 10:00-16:00
Closed: Sundays, Mondays and holiday
Admission: 300 yen (free for high school students and under)
Access:
• By train: take either the JR Sotobo Line to Oami Station or the JR Sobu Main Line to Naruto Station; change trains and take the JR Togane Line; get off at Gumyo Station; 5 minute walk to the university.
• By car: take either the Keiyo Highway or the Tateyama Expressway to the Chiba-higashi Junction; from there, enter the Togane Toll Road; exit at Togane and take National Highway (Route) 126 in the direction of Naruto for about 20 minutes; at the signal at Josai International University Mae, turn right.
*The school parking lot is available.
Mizuta Museum of Art, Josai International University
1 Gumyō, Tōgane-shi, Chiba 283-8555, Japan
Tel. 0475-53-2562
Web design by Honoka Iijima, senior in the Faculty of Media Studies