Access
JIU is conveniently located near Narita International Airport, gateway to the world.
JIU Main Campus
1 Gumyo, Togane City, Chiba 283-8555, Japan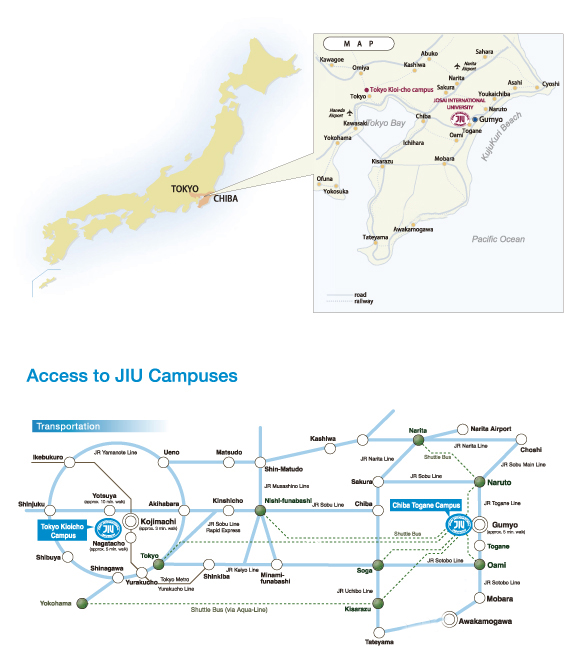 Arriving by Air
Transportation from Narita Airport
Take the Japan Railways (JR) Narita Line, Sobu Line and Togane Line (Narita Air Terminal O Narita O Sakura O Naruto O Gumyo).
You can also take a JIU shuttle bus from Keisei Narita station (in front of the Sumitomo Insurance building, facing the bus roundabout at the east exit of the station).
Transportation from Haneda Airport
To Togane, take either an express bus operated jointly by Chiba Chuo Bus and Tokyo Airport Limousine, or a "Seaside Liner" express bus operated jointly by Keisei Electric Railways and Chiba Flower Bus. This access route is convenient for those who are unfamiliar train and monorail transfers.
"Seaside Liner" Express Bus (Keisei Electric Railway & Chiba Flower Bus Companies)
Operating between the Hamamatsu-cho World Trade Center Bus Terminal and Naruto, with stops at the Mizuho Bank opposite the JR Tokyo Station Yaesu Central exit, JR Togane Station and Ienoko. To reach JIU, get off the bus at JR Togane Station and take a train. You can also get off at the Ienoko bus stop and walk to the university in about 15 minutes.
Bus Schedules at Chiba Togane Campus
To Chiba Togane Campus
| | | | | | | | | | |
| --- | --- | --- | --- | --- | --- | --- | --- | --- | --- |
| From | Tokyo Sta. | Yokohama Sta. | Kisarazu Sta. | Nishihunabashi Sta. | Chiba Sta. | Soga Sta. | Togane Sta. | Naruto Sta. | Narita Sta. |
| 6 | | 25 | | | | | | | |
| 7 | 20 | | 40 | 40 | | | | | 40 |
| 8 | | | | | 00 | 00 | 30 | 30 | |
| 9 | 00 | | | | 50 | 35 | | | |
| 10 | | | | | | | 30 | | 45 |
| 11 | | | | | | | | | 35 |
| 12 | | | | | | 10 | | | |
| 13 | | | | | 55 | | | | 55 |
| 14 | | | | | | 05 | 30 | 45 | |
| 15 | 20 | | | | | | | | |
| 16 | | | | | 15 | 05 | | | 15 |
| 17 | | | | | | | | 05 | |
From Chiba Togane Campus
| | | | | | | | | | |
| --- | --- | --- | --- | --- | --- | --- | --- | --- | --- |
| To | Tokyo Sta. | Yokohama Sta. | Kisarazu Sta. | Nishihunabashi Sta. | Chiba Sta. | Soga Sta. | Togane Sta. | Naruto Sta. | Narita Sta. |
| 8 | | | | | | 55 | | | |
| 9 | | | | | 00 | | | 40 | 40 |
| 10 | | | | | | | 15 | | |
| 11 | | | | | | 15 | | | |
| 12 | | | | | | | | 55 | 55 |
| 13 | 30 | | | | 00 | 20 | | | |
| 14 | | | | | | | 15 | | |
| 15 | | | | | 25 | 25 | | 15 | 15 |
| 16 | | | | | | | | | |
| 17 | 30 | 30 | 30 | 30 | | 30 | 30 | | |
| 18 | | | | | | | | | |
| 19 | 20 | | | | 20 | | | 20 | 20 |
Travelling time(Fee)
| | | |
| --- | --- | --- |
| Station | Travelling time | Fees(one-way) |
| Tokyo Sta. | 1h10min. | 700YEN |
| Yokohama Sta. | 2h10min. | 1000YEN |
| Kisarazu Sta. | 60min. | 600YEN |
| Nishihunabashi Sta. | 60min. | 500YEN |
| Chiba Sta. | 45min. | 300YEN |
| Soga Sta. | 45min. | 250YEN |
| Togane Sta. | 15min. | 110YEN |
| Naruto Sta. | 10min. | 110YEN |
| Keisei Narita Sta. | 50min. | 350YEN |
•The traveling time for commuting may change depending on the road conditions.
•The shuttle busses cannot have passengers beyond their capacities.
•The shuttle busses run from Monday to Friday. The busses don't operate on Sundays and holidays (except school days)
•The shuttle busses don't run during the long holidays. The bus schedule is subject to change according to the events on campus.

•In the event that the Aqua Line is closed, the shuttle buses to Yokohama will only run between JIU and Kisarazu.
•Due to a rule in Japan, you cannot pay for the bus fees by cash. Please purchase the coupons or vouchers in advance. (The coupons are available at the Accounting Office in the Main Building, and the vouchers are available at the 1F of the Building A at Togane Campus.)